Cross Ocean Project Logistics Network has Openings in Several Countries
Members Meeting in Dubai
On the 3rd of February all members are welcome to attend a meeting in Dubai.
Venue and details to be announced.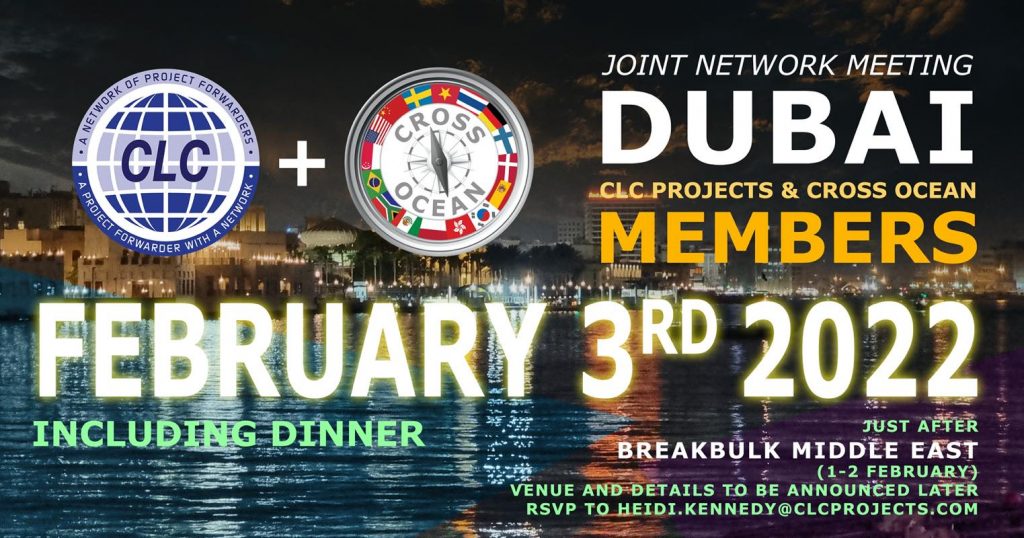 Contact Heidi for more information.
Become a Member:
You are welcome to apply for membership in Cross Ocean Project Logistics Network! We are a sales driven network, therefore our main goal is to help members cooperate and increase their sales. Please contact our team today to learn more about our network.
What are the membership fees?
EUR 1,500 to be paid once a year and which is non-refundable.
Payment is due 30 days after receipt of invoice.
How many members are allowed?
Each country may be represented by a maximum of two members with the following exceptions:
India – 5 members
USA – 5 members
China – 10 members
South Africa – 3 members
Brazil – 4 members
Russia – 3 members
Turkey – 3 members
Abu Dhabi – 2 members
Dubai – 2 members
How do members meet-up?
We gather members from around the world to meet once a year. However, since the global pandemic has prevented us from meeting in person we are conducting virtual meetings between members every week. Therefore, we always make sure our members get the chance to meet with each other.
Each company can send up to four participants to each global conference.
Why Join Cross Ocean Project Logistics Network?
Cross Ocean links companies together to form a powerful, strong and global alliance of like-minded companies
Together as a team our members are able to compete with larger/global players
The owners and the team together support our members 100%
Cross Ocean provides guidance in nominating the most suitable members to team up with on a case by case basis
We answer your queries quickly with a clear yes or no if we can or cannot help you solve your issues
Business Intelligence is regularly sent to every single member
More about Cross Ocean Project Logistics Network
Cross Ocean network was established in February of 2018 and is owned and operated by professionals with backgrounds in liner shipping, project and general freight forwarding, cargo surveying and airfreight forwarding.
We are looking forward to the world getting back to normal (as much as possible) so that we can keep the ball rolling, get back in touch and make projects happen. For now, future conferences are on hold until the end of the global pandemic 😃.
In place of in-person meetings we are holding online video meetings with members. To book a slot for an upcoming meeting please contact us.
Cross Ocean is part of the CLC Projects Group and also a sister company of Project Cargo Weekly